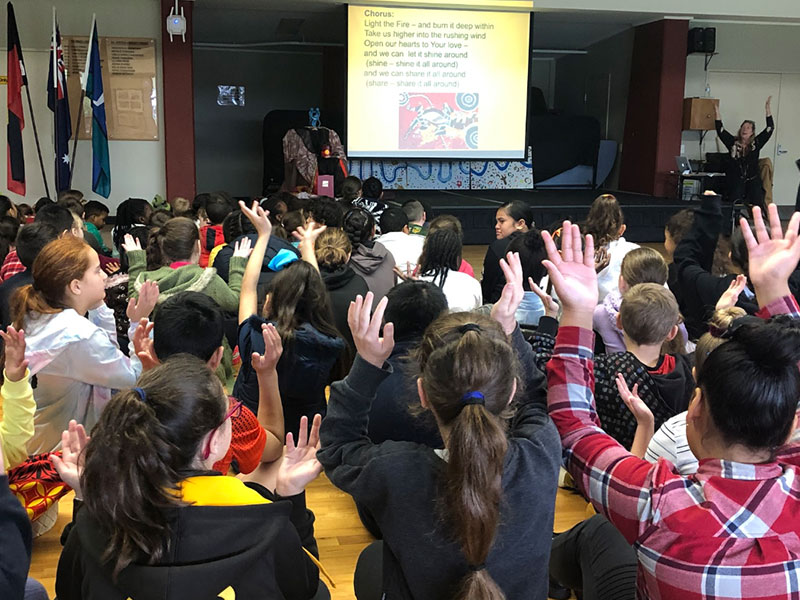 The Holy Family Primary community came together for a moving liturgy to celebrate NAIDOC Week
During the last week of Term 2, Catholic Education Diocese of Parramatta schools took the opportunity to celebrate NAIDOC Week and take a deeper look at the 2019 theme for the annual event - Voice, Treaty and Truth.
NAIDOC Week is an opportunity to celebrate the history, culture and achievements of Aboriginal and Torres Strait Islander peoples. Catholic Education Diocese of Parramatta Jarara Indigenous Education Unit Wellbeing Councillor Stacey Dellow reflects that NAIDOC Week is an opportunity to share culture.
"For me NAIDOC Week is a time to keep our story alive and celebrate it,'' Mrs Dellow said.
This year the focus is also on celebrating the United Nations International Year of Indigenous Languages. The Catholic Education Diocese of Parramatta Jarara team visited schools including Our Lady of the Nativity Primary Lawson, St Bernadette's Primary Lalor Park and Holy Family Primary Emerton sharing culture and language with students and staff.
At Holy Family Primary Emerton, community celebrations began with a smoking ceremony and moving liturgy featuring Aboriginal dancing and song. Aunty Julie spoke to students about the meaning of the word "treaty" and Holy Family Parish Priest Father Greg Jacobs SJ shared the Prayer of the Aboriginal People. The liturgy was also attended by students from Holy Family Preschool.
Students had a treat of damper and honey for morning tea. This was followed by a barbeque lunch, and a fun day of activities focused on sharing culture and story.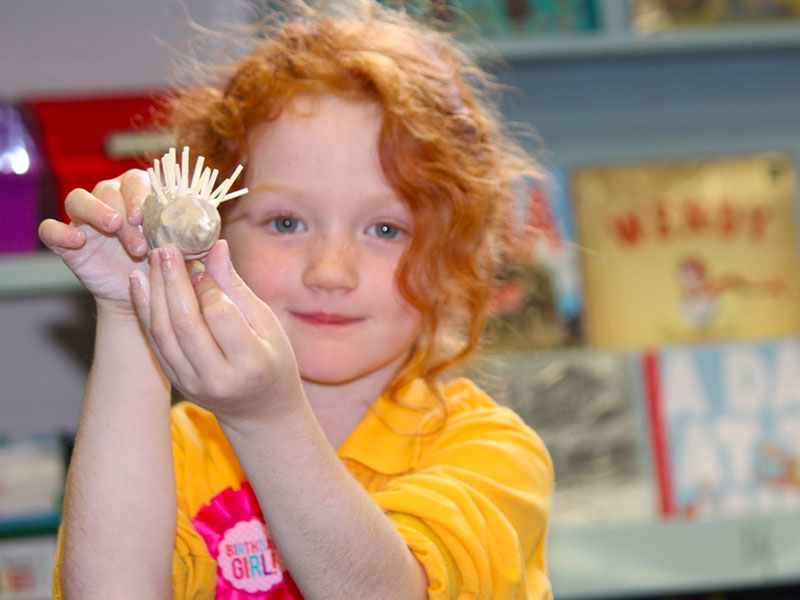 Students at St Bernadette's Primary enjoyed making spiky echidnas for NAIDOC Week
St Bernadette's Primary Lalor Park specialist teacher Catherine Ruff organised NAIDOC celebrations which saw Kindergarten to Year 2 students learn about the didgeridoo and getting the chance to hear it played. They also got to create their own super spiky echidnas too.
Miss Kennedy educated the students on emus and how the male emu is the one who takes care of the eggs. "When people went hunting for eggs they used a special emu caller which would entice the male emu away from the eggs, which allowed for hunters to get just enough eggs for their needs,'' she said.
"The Indigenous people always only got just what they needed and left emu eggs so that they would hatch into baby emus and continue to allow the emu population to grow,'' she said.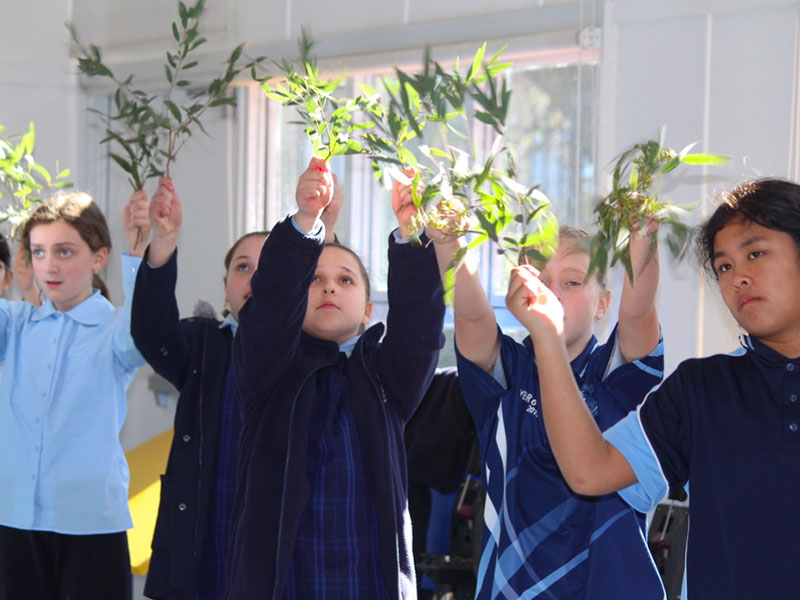 Our Lady of the Nativity Primary students Yayi, Michala, Olivia, Charlotte, Amelia and Audrey participate learnt a traditional Indigenous dance
At Our Lady of the Nativity Primary Lawson, a special smoking ceremony was led by community member Aunty Corina before sisters Shanaya and Jumikah Donovan performed traditional Indigenous dances to a captivated audience.
Principal Lisa Samojlowicz said it was wonderful for the students to learn more about Australia's Indigenous heritage. "There is something in the story and dance which means more when you see it first hand and it really reinforces culture and history."
Students from Kindergarten to Year 2 enjoyed listening to a Dreaming story called "The Echidna and the Shade Tree" which was followed by a practical exercise of making their own echidnas out of clay and matchsticks.
Students from Year 3 to Year 6 were taught some traditional Indigenous dancing by community member Aunty Julie and the GWS Giants also held some AFL activities.
Students and teachers heard from Jarara Specialist Teacher Michelle Kennedy and Loyola students Ayoula Shogunle and Ethan Parata who shared stories and demonstrated the didgeridoo, boomerangs, clap sticks, a rainmaker instrument and emu eggs.
Ayoula Shogunle said to him NAIDOC Week is for everyone. "Being Aboriginal to me is about being one. It doesn't matter what colour you are,'' he said.