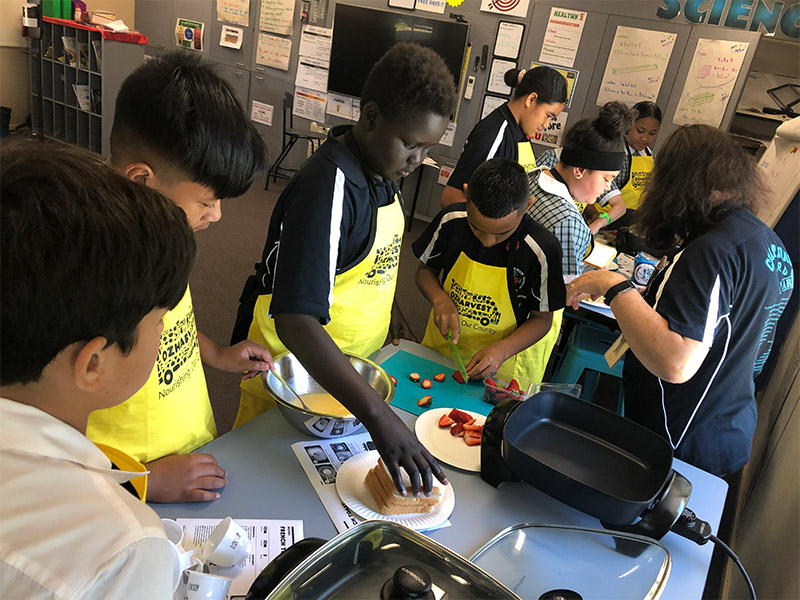 Holy Family Primary Emerton students have tucked into a fun new learning program focused on food and sustainability.
The FEAST from Australia's leading food rescue charity OzHarvest sees students getting involved in hands-on cooking activities in the classroom.
Year 5 and 6 students at Holy Family Primary have loved the chance to learn more about eating healthy food, wasting less and cooking too. As part of this learning, students have developed a yummy Holy Family Primary Emerton cookbook and skilled up in the kitchen.
Josh T enjoyed making fruit skewers with Greek yoghurt. "We all had a role such as cutting the apples, peeling the bananas and oranges and feeding them onto skewers," he explained. "We also made sure we put the food scraps aside so we can compost it. Thank you OzHarvest for giving us the opportunity to make delicious meals."
Shay-Leigh was impressed that the school received kitchen kits from OzHarvest to support the learning, including OzHarvest's signature yellow apron. "It is a really helpful program," Shay-Leigh said. "We have learnt about sustainability and how to not waste food."
Achol really enjoyed learning how to cook. "My family and I made the fritters at home", he said. "They were delicious."
Like his classmate Ane, Mavrix's favourite recipe was the tasty classic French Toast. "It's something I had never tried before," he said.
Reflecting on OzHarvest's broader relationship with the Emerton community, Mavrix commented "they provide an amazing service for the needy".
OzHarvest also partners with the Holy Family Primary Emerton community in sharing food hampers with local organisations. This smart partnership between OzHarvest and Holy Family Primary Emerton prompted by COVID-19 is currently being extended to other Sydney suburbs.
---
See What makes Holy Family Primary Emerton a great school