2015 Catholic education farewells Principals after years of service
26 Oct 2015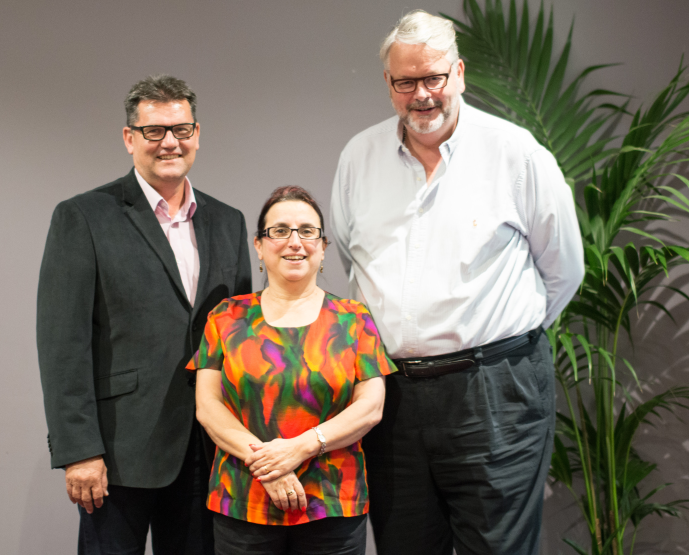 Leaving Principals Peter Wade and Mary Leask with Greg Whitby.
During the Principals' Masterclass dinner at Rooty Hill RSL on Thursday 8 October 2015, a number of Principals were farewelled by the diocese.
Caroline Chisholm College, Glenmore Park Principal Mary Leask and Delany College, Granville Principal Peter Wade were not the only ones farewelled on the evening; Catholic Education also said goodbye to principals Sr Brenda Kennedy, Sue Guilfoyle, Jenny Webb and Tricia Maidens.

Executive Director of Schools Greg Whitby said the masterclass dinner was an excellent opportunity to thank colleagues for their work over the years.

'The Principals' Masterclass dinner provided an excellent opportunity to thank and farewell our principals for their contributions to our Catholic learning community,' Greg said.

Mary Leask's service to the Diocese of Parramatta has been as Principal of Caroline Chisholm College, Glenmore Park and Nagle College, Blacktown South. Mary's work to provide girls with access to a full range of opportunities through education will be continued next year as Principal of St Ursula's College, Kingsgrove, a school she previously served as Assistant Principal.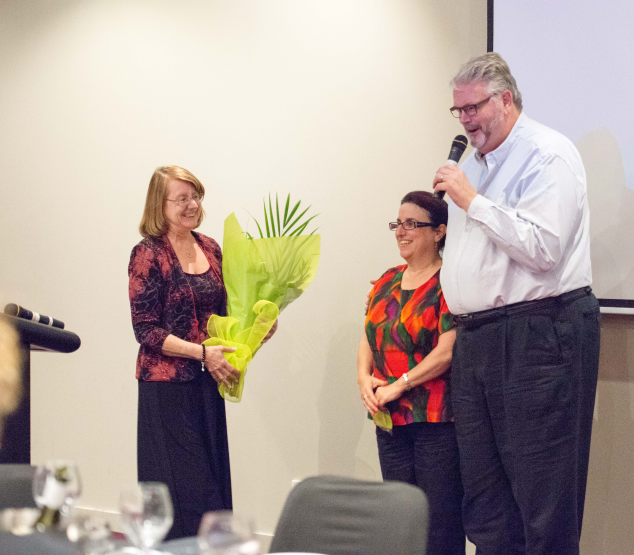 Greg farewells Mary on behalf of the Diocese at the Principals' Masterclass Dinner. Peter Wade was appointed Principal of Delany College, Granville in 2006. A graduate of Patrician Brothers' College, Fairfield, Peter brought an established commitment to Patrician spirituality to the role.

Under Peter's leadership, Delany College entered into an innovative partnership between Catholic Education Diocese of Parramatta and Telstra to launch the Delany Connective in 2014, a connected classroom to support new and innovative learning pedagogies at the school.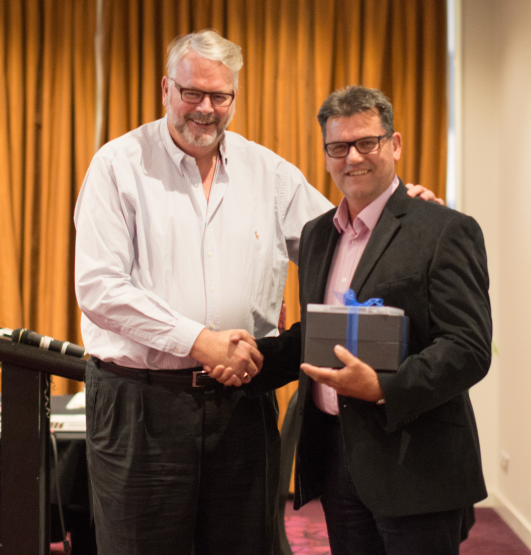 Greg gives Peter a gift on behalf of the Diocese.
Sister Brenda Kennedy CHF retired as Principal of Holy Family Primary School, Emerton in May 2015. Her mission in education has been characterised by infectious faith and practical service to those in need. Sr Brenda continues her work with the Diocese as a Home School Liaison Minister. In this new role, she will minister to vulnerable students and their families to address habitual non-attendance.

Sue Guilfoyle began her teaching career as music coordinator at Our Lady of the Way Primary, Emu Plains in 1984. Sue subsequently served as a classroom teacher at St Monica's Primary School, Richmond; Assistant Principal at Holy Family Primary School, Luddenham and St Bernadette's Primary School, Lalor Park and Principal at St Finbar's Primary School, Glenbrook and Holy Family Primary School, East Granville, making a significant contribution to Catholic schooling in the Diocese of Parramatta. Sue recently relocated to take up the position of Principal of the Assumption School, Bathurst.

Jenny Webb was appointed as Principal of St Patrick's Primary School, Guildford in 2002. Jenny previously served as Assistant Principal at St Michael's Primary, Blacktown and Our Lady of the Rosary Primary, Kellyville. On her retirement, Jenny relocated to Molong in Central Western NSW.

Although, Tricia Maidens recently retired as Principal of Xavier College, Llandilo, her service to education continues in her work developing and delivering programs to final year education undergraduates as a tutor at the University of Western Sydney. Tricia's career achievements include receiving the Brother John Taylor Award for Excellence in Catholic Education from the Catholic Education Commission in 2009, the NSW Leadership Excellence Award from the Association of Catholic Secondary Principals and the John Laing Professional Development Award from Principals Australia Institute.

We wish Mary, Peter, Sr Brenda, Sue, Jenny and Tricia all the very best in the future.