2014 Celebrating a decade of Catholic education
19 Sep 2014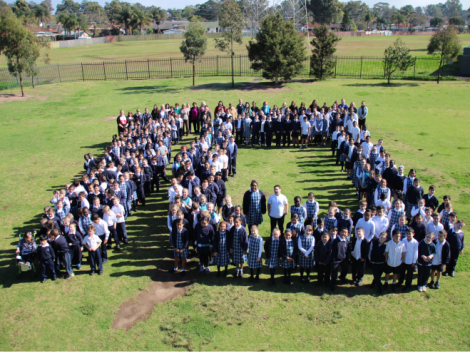 Holy Family Primary students celebrate ten years
Hundreds of students - past and present - families, supporters and community members filled the Holy Family Parish church to celebrate 10 years since the foundation of Holy Family Primary, Emerton.
In a joyful liturgy, Mass was concelebrated by former parish priests Fr Peter Confeggi, Fr Brendan Kelly SJ and Fr Greg Jacobs with the students participating in beautifully choreographed liturgical dances, supported by the school choir.
When the school, which reflects the natural environment and connection to the traditional owners of the land - the Dharug people - was opened in 2004 there were 32 pupils enrolled now there are 330 students attending Holy Family Primary.
In his homily, Fr Brendan Kelly SJ read stories from former students about the influence of their teachers and how popular the excursions were.
'The 'Holy Family' is every student, parent, teacher and supporter and it is clear that with over 31 countries represented at the school that no-one has to be a stranger at the school,' said Fr Brendan.
An emotional Sr Brenda Kennedy, the founding principal of Holy Family Primary, thanked the past parish priests and the student's families for supporting the school through foundational challenges as well as the former teachers and students who attended the celebration.
'I am particularly touched to see one of my first pupils, Jacob, who came all the way from Alice Springs to celebrate with us today,' said Sr Brenda. 'I want to thank God for the gift of my faith and for the Catholic education we offer at Holy Family.'
Representing the Executive Director of Schools, Greg Whitby, Sue Walsh the Director of System Performance recalled her own school days. 'My Catholic education formed my faith and gave me great opportunities in life and that is what I wish for all the students of Holy Family Primary,' said Sue. Sue then read a letter of congratulations from Mr Whitby.
During the anniversary celebration the first Holy Family Values Awards were announced. Each year class was asked to vote for a student who lived out the values of the school and the proud nominees were presented with a medallion by Sr Brenda and Fr Brendan.
Facebook
08 Dec 2022

Final transition for our 2023 Kindergarten. Have a great summer holiday and we will see you on 31 January 2023 on your first day of school at Holy Family Primary Emerton!!!!